Increased diversity and inclusion in the workplace has long been assumed to strengthen the workforce, but recent studies confirm correlations to key metrics like heightened innovation and higher profits. But creating, supporting, and nurturing a diverse workforce continues to be a challenge for many organizations. Simply hiring a diverse pool of people is not enough. Organizations need to dig deep to examine and challenge the systemic bias that's inherent in their policies, practices, and culture, as well as strive to overcome those same types of bias in their employees.
If your organization is tackling these challenges, you may also be struggling with how to deliver these programs and ensure they remain effective over time. A study from the University at Buffalo showed that diversity initiatives are most effective when they are integrated, ongoing, and delivered in a variety of interactive and engaging ways. In the spirit of diversity itself, it makes sense that employees have a range of learning styles, interests, and approaches to learning. In fact, you can make use of the same hybrid learning tools and techniques to support your diversity and inclusion initiative that you use for the rest of your educational programs. This can aid in creating a cohesive message and culture across organizations, especially for those with a geographically diverse workforce.
Systemic Workplace Bias – What Does it Look Like?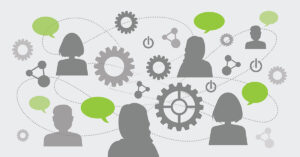 Where some diversity challenges are obvious and clear, many of the roadblocks to an inclusive environment exist on a systemic level. These are the ingrained beliefs and practices that are hindrances to a supportive and diverse work environment. There are a number of examples of these practices and beliefs that often take place in well-meaning organizations.
Referral-based hiring programs – While there is strength in getting referrals from current employees, people naturally gravitate to those who are similar. These types of programs, especially when used as a primary recruitment tool, can result in a homogeneous talent pool.
After-work social culture – It's always refreshing when employees like each other enough to socialize outside of the workplace. But when a department emphasizes or even promotes these activities, it may alienate those who have kids or aging parents at home, those with conflicting religious/cultural beliefs, or those who can't afford to participate.
Employee perks – Who doesn't love a free lunch? Lunch programs are great, but inclusive organizations will want to ensure that the meals reflect the needs of a diverse population, including options that are low in sodium, vegetarian, vegan, Kosher, and Halal, as needed. They will also take into account those with food allergies. Without those extra measures, these fun programs leave some employees feeling like they don't belong.
The interview process – Body language is often taken into account. Traditional hiring practices look at behaviors like making eye contact or having a firm handshake when making decisions. Inclusive organizations learn to disregard traits that won't impact employee success in a specific job to avoid inadvertently discriminating around neurodiversity and cultural differences.
Although these practices are typically meant to create a more positive environment, they can alienate team members who don't fit into the corporate norm. That isn't to say that we toss them out completely, but being aware and rethinking how these types of activities are presented can go even further to create an inclusive corporate culture.
Getting Started – Establish Areas of Challenge and Need
The first step to creating a diversity initiative is to take a closer look at your corporate culture, hiring practices, management expectations, demographics, and policies. This is a multi-step process that will likely have an ongoing component. You will also likely want to include outside expertise to help identify specific and meaningful steps to take. These are just a few of the approaches you can take to gather initial data.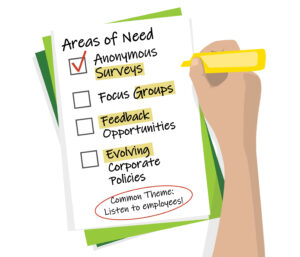 Anonymous surveys – You may need to capture additional demographic information that isn't present in hiring documents to guide your areas of focus. Surveys are also a good way to ascertain what employees feel is working well or needs improvement. These can be housed in a cloud-based repository for employees to take at their leisure.
Focus Groups – Conducted in-person or online via chats and forums, and moderated by an impartial party, focus groups give stakeholders a chance to state concerns, answer questions, and engage in the larger process.
Corporate Policies – Gather your company policies, documentation, job descriptions, and any other content that helps to inform your corporate culture and expectations. If these aren't already available for employees to access in the cloud, this is a good time to do so.
Feedback Opportunities – Create ongoing opportunities for feedback through in-person discussions, online forums, and virtual and in-person "suggestion boxes." Make sure to assign a team to escalate these concerns as needed.
Making Change
Once you've established areas of need, it's time to start enacting change.
Build a foundation – Revise corporate policies to reflect an inclusive work environment. Create guidelines for job descriptions and employee reviews to support management in hiring and managing around diversity. Share the policies in an accessible spot in a digital resource library so everyone has access.
Challenge personal biases – Personal biases are ingrained and won't change overnight. Work with experts in the field to provide regular opportunities for learning and growth. These may include in-person workshops and discussions, as well as online interactive learning experiences. While face-to-face discussion is important, some employees may be more open to individual learning activities. Other learning techniques, like gamification, can make these engaging and memorable.
Create safe spaces – Some employees may need/want safe spaces to share with others from similar backgrounds or with similar concerns. In-person meetings can help build trust and community. While online forums will help maintain connections for remote employees or for a geographically diverse workforce.
Integrate these values throughout your educational content. Build training opportunities around your general areas of need and integrate inclusion throughout. Whether it's learning how to conduct a job review, sell a ticket to a customer, or maintain workplace safety, employees should be encouraged to think about inclusion and equity.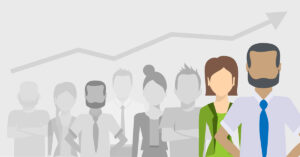 Maintaining Momentum
Diversity and inclusion initiatives should be ongoing and evolving. Over time, continue to:
Revise documentation and policies, as needed
Examine cultural norms
Engage outside consulting for best practices and an outsider point of view
Listen and respond to concerns
Reinforce the lessons that have already been shared
Evaluate what's working and what is not – and make changes accordingly
Utilize coaching and mentoring programs for support and to spread a healthy organizational culture
Tips for Creating Meaningful and Effective Diversity and Inclusion Initiatives
Focus less on differences between employees and more on creating collaborative and positive work environments
Emphasize the breadth of inclusion rather than focusing on just a few areas
Avoid using diversity training in punitive ways
Integrate diversity and inclusion efforts rather than treating them as one-off programs
Utilize a range of educational methods to appeal to diverse learning styles
There is nothing easy about changing an organizational culture to make it more inclusive. Fortunately, with the support of experts in the field and the tools readily available today, the journey doesn't have to be an overwhelming one.